Hello everyone, today I am sharing our trip to Arkansas itinerary that we did with a family of 15 people. If you are planning to travel from Texas to Arkansas this blog will definitely help you. Since, we were also traveling with toddlers we didn't go to the more complicated hikes.
Day 1 – Driving from Dallas – Heber Springs
On the way to Heber Springs, we stopped by Mountain Tower in Hot Springs.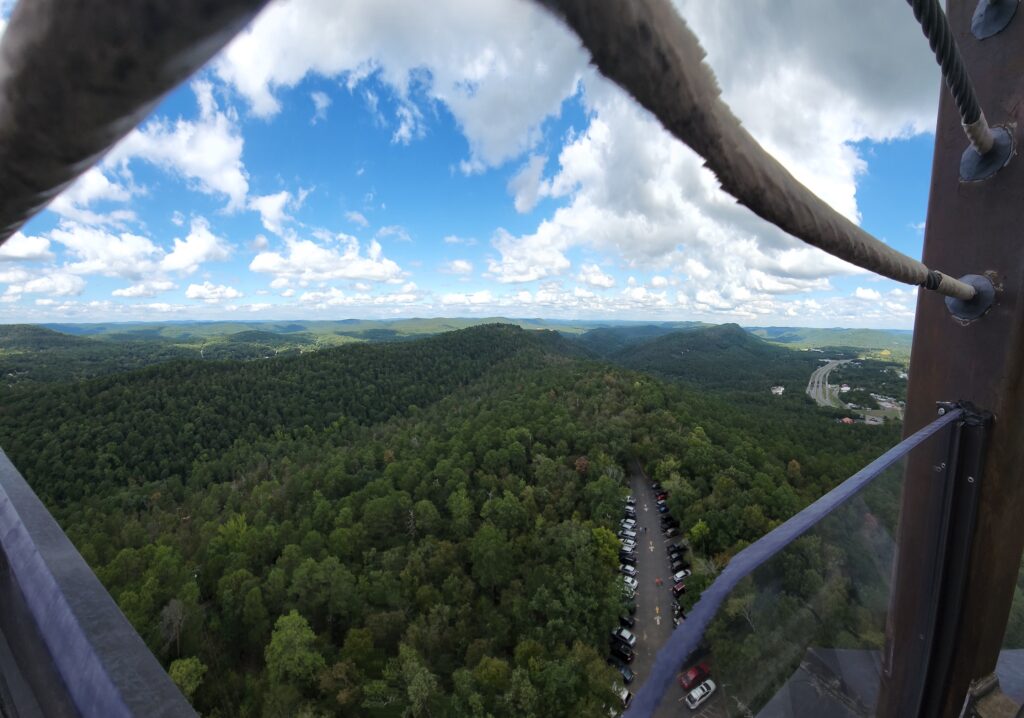 See 140 miles from Hot Springs' most famous landmark!
This 216-foot superstructure affords a breathtaking panorama—encompassing 140 miles—of beautiful Hot Springs, the Ouachita Mountains and the surrounding Diamond Lakes area.
General Admission (12 to 54) – $12.00
Senior Citizens (55+) – $10.00
Military/Police/Firemen/First Responders – $10.00
Golden/Park Pass Holders – $9.00
Youth (5 -11) – $8.00
Children 4 and under – Free
Group rates for 15 + – Adult $8.00 | Youth $5.00
Free Parking. Handicap accessible.
We spent about 2 hours here and then headed to our hotel in Heber Springs, we stayed at the Courtyard by Marriott Hot Springs for the night.Once we arrived at the hotel , we rested for a bit and headed over to Collin's Creek Trail. It was a very easy trail to do with toddlers. Everyone loved it and enjoyed walking through the woods. There was also a small playground at the end of the trail.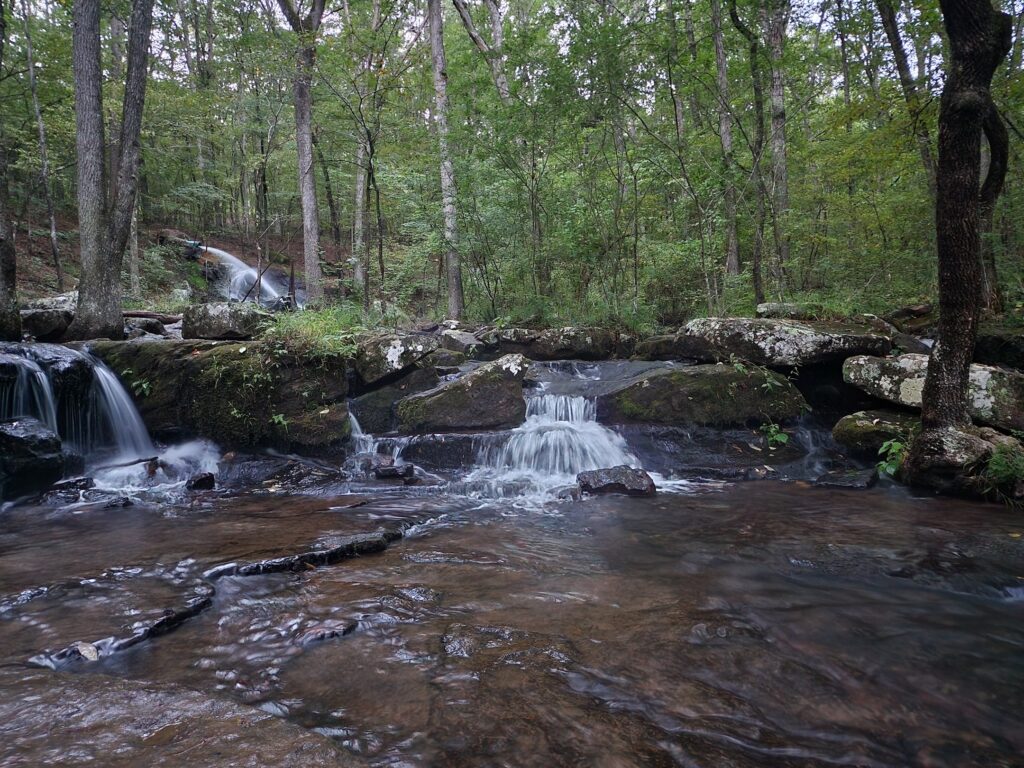 It was after sunset that we got back home. There are a few restaurants like subway right across the street from the Marriott and thats where we had our dinner for the night.
DAY 2
Courtyard offers light breakfast bites. After that we headed to Sugarloaf Mountain, Hot Springs National Park, AR 71901. This trail is 15 minutes from the Marriott and finding the trail start was a bit tricky.
to be continued |
POINTS OF INTEREST IN ARKANSAS
Hot Springs Activities
Hot Springs Mountain Tower

Hours: 9AM-6:30PM; Cost: $12 (12+), $8 (5-11), free (4-), $10 (55+)
Heber Springs Activities
List of trails in Heber Springs: https://visithebersprings.com/hiking-%26-sightseeing
Collins Creek Trail

1.9 km, 131 ft elevation gain, 29 minutes out and back trail, easy.
Open 24/7. No cost.
Will see cascades (mini-waterfalls).
Location: Turn onto Hatchery Road from AR-25. Just a short distance down and you will see the Collins Creek trailhead sign. There is a small parking lot and immediate access to the trail.
Pictures: https://www.onlyinyourstate.com/arkansas/ar-heber-springs-collins-creek/

Sugarloaf Mountain Summit Trail
Bridal Veil Falls Trail

0.64 km loop, easy, 68 ft elevation, 12 minutes
Location: Located off Highway 25 on Bridal Veil Falls Road, next to Heber Springs Collision Center. Bear right at fork in the road and turn right in the parking area.

Sugar Loaf Mountain National Nature Trail

4.0 km, moderate, 646 ft elevation, 1 hr 23 min. In Higden, AR (28 minutes from Drasco, AR). Take a ferry across the lake to get to island mountain.
Shuttle times: 9am, 10am, 11am, 12pm, 2pm, 4pm. 15-minute boat ride. They will send two shuttles, especially for us. Cost: 13+ ($12.95), 4-12 ($9.95), under 4 (free).
Reviews: https://www.alltrails.com/trail/us/arkansas/sugar-loaf-mountain-nature-trail AND https://www.tripadvisor.com/Attraction_Review-g31669-d6785226-Reviews-Sugar_Loaf_Mountain_National_Nature_Trail-Higden_Arkansas.html

Tonawanda Base Trail
Josh Park Memorial Trail

2.1 km loop, easy, 27 minutes. It has a picnic area.

John F. Kennedy Memorial Overlook

View over the newly completed Greers Ferry Dam. Always open, free.
If we go to Sugar Loaf Mountain in Higden, then we will pass right by it.
Pictures: https://www.cleburnecountyar.com/jfk

Ruland Junction Train Museum

Showcases 10 operating train layouts. Kids will likely enjoy it.
Hours: 8am-4pm (Tue-Sat), Cost: $5 (12+), $2.50 (under 12)
Upper Buffalo Wilderness
Magnolia Falls Trail
Fern Falls Trail

2.4 km out-and-back, easy, 242 ft elevation, 41 minutes. In Jasper, AR.
Trailhead is right next to the Scenic 7 Byway sign. (8 minutes from Deer.)
Buffalo National River Park
Triple Falls Trail (aka Twin Falls Trailhead):

0.5 miles loop, really beautiful waterfalls. In Harrison, close to Ponca, AR.
Tough drive, but an easy and short walk. (4-wheel drive likely necessary)
Directions: From Jasper on highway 74, travel west to Sherman, turn right at the sign identifying Kyles landing, turn north and travel 1 mile to the fork, stay right, the parking lot is 1.8 miles on the right at the bottom of the hill. It's a small parking lot right in front of the boy scout camp.

Hammerschmidt Falls Trail
Indian Creek Trail to Eye of the Needle
King River Falls
2.9 km out-and-back, easy, 72 ft elevation, 35 minutes. In Witter, AR.
Optional: We can stop and do this hike in the middle of our journey to Fort Smith. Likely not because we already have a lot of trails that day.
Devil's Den State Park
Devil's Den Lake Loop

1.3 km, easy, 42 ft elevation, 16 minutes. In Winslow, AR.

White Rock Rim Trail
3.4 km loop, 147 ft elevation, easy, 45 minutes. In Winslow, AR.
The Rim Trail is over 2200 feet above sea level, and almost the entire trail has amazing vista views of the surrounding Ozark mountains.
Keep in mind road closure.
Scenic 7 Byway
290 miles. Will drive through Ozark and Ouachita Mountains with dramatic mountain views and scenic attractions.
Begin through the Boston Range of the Ozark Mountains. Views, cliffs, rock formations, waterfalls, and wildlife.
Oklahoma Activities
Eufaula Lake

Large lake with sandy beaches.
The part that comes in our route specifically is Eufaula Cove Marina/Xtreme Cove Marina. They have boating rentals.
https://www.lakeeufaula.com/marina–eufaula-cove-marina/395